By Dan Moser
I'd like to start by saying first of all I don't normally do this. I'm no fan of post game blog postings. The primary reason is that I don't enjoy reading them on other sites. I tend to disagree with what bloggers see in the games and to be honest, so much of watching hockey games on television is subjective, the game can be different for everyone. Some might say that a goal was huge, other a save, others a giveaway, others a blown
offside
call. Honestly, if I miss a game, I'd much rather call a friend up and ask what I missed than check out some
anonymous guy's blog
. Also it's been a while since I wrote anything. My third and final point is that this is not really a post game review, this is a story about my experience viewing the game.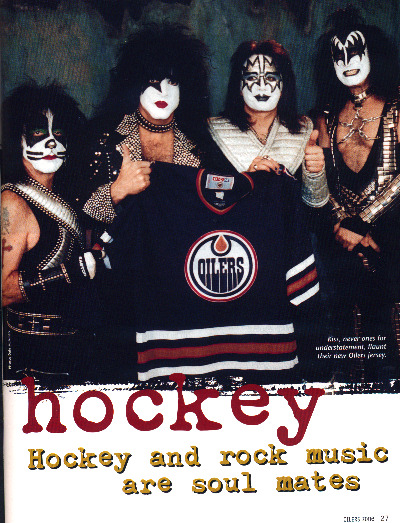 Unrelated, but I needed a picture here and I like this one.
Toronto
. Don't hate me. The house I am currently living in does not have a sports package that allows for easy viewing of all NHL games. The Internet connection in said house can be sketchy. The feed I was watching the game on was also sketchy. I purchased a
Proline ticket
for the night's games but did not bet on the Oilers game, that's bad luck. I work part-time as an overnight valet in a classy downtown Toronto condo,
Drake
has a place there, NBD, from 11:00-7:00 EST.
ONWARDS TO THE STORY: My night began at 6:00 PM EST. I awoke from my pregame nap (that's a nice way of saying I was sleeping during the day) and decided it might be fun to put some
money on the games tonight
. I'm usually pretty terrible, I don't think I've won since I had a friend buy me my first ticket when I was in grade 10 from the the Westmount Shopping Centre across the street from my High School. Anyway I quickly ate a light pregame dinner, got some gas, bought my ticket all before games started at 7:00 (
impressed?
).
Now, I watch hockey games like a lot of people watch football. I have a game or two on TV and then open the rest of them streaming on my laptop along with stattracker for my pools. This is not a recommended way of watching hockey, especially concerning whistles, I am always confused as to which game the whistle took place in, why players are stopping, and why some seem to be playing through the whistle.
I won't bore you with the details of the early games, (I made the mistake of betting on the Coyotes to win by at least 2 goals. Idiot.) let's get to the important action.
Fast forward to 9:00. I am already feeling a little dejected because of the epic
fail
that was the Ottawa Senators actually putting the puck in the net. I began watching the once coveted and interesting Battle of Alberta albeit with the volume low because Peter Loubardias's voice gives me a headache, I also hate it when the Flames' crew use players first names only during game action.
The first stream I am using is not great, so I try using a different stream. Once the second stream, of lower visual quality begins to work I immediately notice that the score is 1-0 for the Flames. Goal 1, missed.
It is announced the Oilers will be on the powerplay and guess what? My computer says it must close down my browser to properly install a lovely
Windows update
. I figure sure why not? This update will surely just make my computer a more powerful
learning machine
. Besides, watching an Oilers powerplay usually just makes me notice that no
defenceman
on the team can carry the puck at all through the neutral zone. Goal 2, missed.
With a minute to go and the Flames going on the PP again I am sure another goal is coming so I go to the washroom. Goal 3, missed. Of the whole first period that I saw, I don't think I saw the Oilers have one scoring chance, its reminiscent of the last Battle of Alberta where
Telus got me so drunk
I don't remember much of the game.
The
intermission
is a perfect time for me to take a closer look at the games that are on my ticket. Everything seems to be in order, except for that the Coyotes at this point will need to
score 5 goals
to make me a winner. Also, may as well play with the stream again, is wanting to watch a game illegally in great quality a
crime
? Don't answer that. When I get a working stream, poor quality, I am greeted by the screeching noise of
Glencross
scores! Goal 4, missed.
See where this is going?
Now the second frame started around 10:00, I need to get ready for work around 10:20 so I can make it in by 10:50 and ask the guy I am relieving if he minds staying a couple minutes longer so I can grab some Timmys.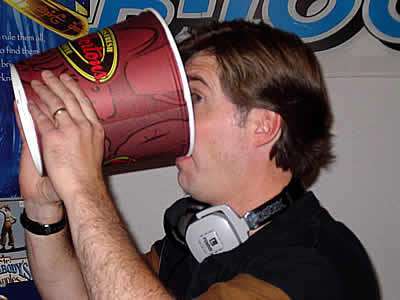 If you can think of a better or healthier way to stay awake from 11-7 I'm all ears.
Co-worker who drives a motorcycle (CDM): I completely forgot about the Leafs game, did you watch it?
Me: Yeah, Leafs won.
CDM: Score? How did they play? Was it good?
Me: It was a Leafs game man. They won 3-1 I think.
CDM: Uhhh how did they play?
Me: I dunno man they were playing Florida.
CDM: What does that mean?
Me: Florida is awful. The Leafs were the Leafs, Colby Armstrong left the game in the first, they were lucky Pete DeBoer didn't get the to score of Giguere you just need to make him move a little.
CDM: Who is that?
Me: DeBoer? He is the Panther's coach.
CDM: What are you watching now? Is that the Vancouver game?
Me: No. Oilers Flames. It's a s***** one though, I think the Flames are up 3-1.
CDM: Buddy, the Flames are in trouble this year.
Me: What? 4-3 when the f*** did that happen?
Goals 5, 6, 7, missed.
Just as I am getting comfortable and done being in amazement that the Oilers are in this game, a car pulls up. The only car of the night. I have to leave my post and go park said car in the deepest darkest regions of the lot. I return. Goal 8, missed.
At least it was a nice car
statistically strongest
shootout player as one of the three shooters.
Oilers lose
, but salvage a point they probably didn't deserve. Flames win but will likely have a wonderful
puke filled no puck practice
tomorrow. Happy Birthday Mikka Kiprusoff.
Hope you enjoyed this brief window into the life of an Oilers blogger. See, we don't all live in our parent's basements.